Sơn La exports first batch of mangoes to UK
2019-06-24 10:31:50 Release
Sơn La exports first batch of mangoes to UK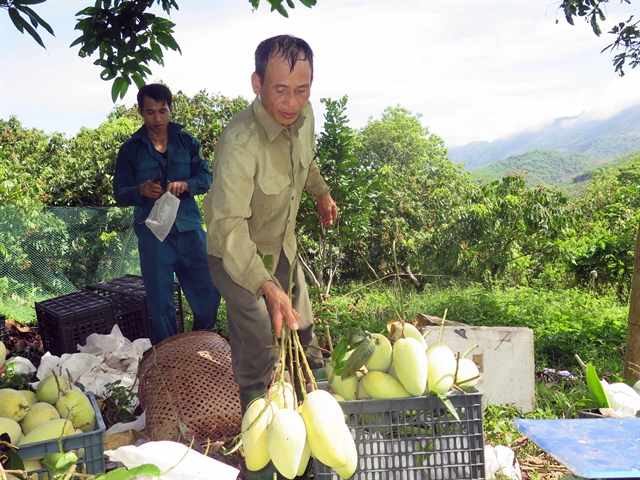 Farmers in Yên Châu District harvest mangos for export. The first batch of three tonnes of mangoes from the district in Sơn La Province were packed on June 19 for export to the UK. — VNA/VNS Photo Hữu Quyết
SƠN LA — The first batch of three tonnes of mangoes, grown in Yên Châu District in the northern mountainous province of Sơn La, were packaged on June 19 for export to the UK.
Hà Văn Sơn, director of the Chiềng Hặc Agricultural Cooperative in Yên Châu, said a total of seven tonnes will be shipped to the UK this month.
To meet export requirements, the co-operative has 14ha growing mangoes under VietGap standards, with an estimated yield of 200 tonnes for export.
Previously, Yên Châu mangoes have been sold mainly in the domestic market and exported to mainland China, he said.
Seeing the potential to export to more countries, Yên Châu growers have applied international cultivation standards to meet strict criteria of import markets.
Sơn La has 15,700ha of mango farms which are expected to yield 35,500 tonnes, including 7,500 tonnes eligible for export.
In the first half of this year, the province shipped nearly 3,000 tonnes of mangoes abroad.
Sơn La is the fifth locality in the country following Đồng Tháp, Vĩnh Long, An Giang and Tiền Giang and the first in the north to export mangoes to high-potential markets like the UK.
Vietnamese mangoes have been exported to 40 countries and territories worldwide, including Japan, the Republic of Korea, Taiwan, the EU, Australia, the US and Canada.
It is the sixth fruit from Việt Nam to be exported to the US after dragon fruit, rambutan, longan, lychee and star apple. — VNS